Truck Service
Truck Service
[do_widget id=nav_menu-3]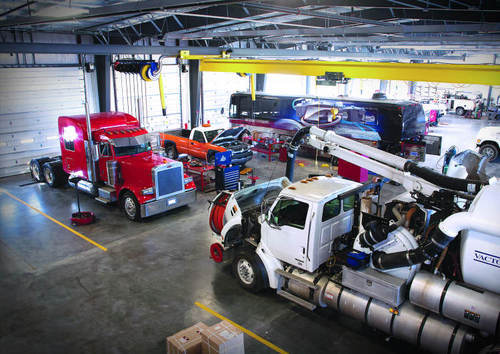 When it comes to hauling weight and travelling long distances, trucks are your best bet. After all, that's what trucks were built for in the first place. They are mean, robust machines that can pull or carry tons of weight across countries.
However, they are still machines at the end of the day and like all machines, they undergo their fair share of wear and tear and various other issues. In fact, they experience more wear and tear than the average car because of the nature of their work.
Fortunately, there's someone to help you with all your truck woes. We call ourselves Xcel Automotive and we are experts at truck serving and maintenance. We are home to some of the best truck technicians in Canning Vale, Australia.
So, if you ever have problems with your truck, give us a call and we'll get to you as soon as possible. Whether your truck needs a tweak of the engine or a basic interior fix, we'll have it done in no time.
Here are a few reasons why Xcel Automotive should be your ideal choice for truck servicing and maintenance:
We've got the best technicians to work on your truck.
We can provide qualified and professional consultation/advice.
We can fix all your truck related issues.
We offer a range of services related to truck repair and maintenance.
We offer breakdown assistance.
We sell and use only the best accessories approved by major truck manufacturers.
We rely on the latest technology to get the job done.
You can bring your truck to us for both major and minor servicing.
Our minor servicing package is designed to help you keep your truck running with basic fixes. For instance, maybe your truck needs an oil change or the tires may need to have their pressure levels assessed. Our minor service package deals with simple requirements that every vehicle is bound to have.
But, since you don't have the time to handle them, you can simply bring your truck into Xcel Automotive and we'll fix everything.
This typically includes services such as headlight/taillight inspection and repair, brake & clutch inspection and repair, fluid (oil & water) checks, battery checks, air filter check and cleaning, transmission and gear checks, electrical wiring checks, and temperature control unit checks.
Once these checks are carried out, we'll generate a detailed report that will tell you whether there were any issues and whether or not if they were fixed. We'll even do a test run to make sure your truck is ready for heavy duty works.
For our major servicing package, we provide a different set of services. These services are typically required if your truck has undergone damage or extensive wear and tear. A majority of the problems that we assess as part of our major services package are actually quite critical and will need immediate attention.
But, there's nothing to worry because Xcel Automotive technicians know exactly what to do. They've been doing this their whole life.
Some of the key services we carry out as part of the major services package include replacements for fan belt and other key components, adjustment and replacement of brakes, transmission checks, repainting, detailing, dent & scratch removal, engine overhauling, upholstery replacement or repair, wheel alignment, tire retreading or replacements, and emission testing.
Unlike smaller vehicles, trucks are larger and a bit more complex. So, an expert's touch is necessary. Fortunately, Xcel Automotive is home to such experts.
Special repairs
As you might already know, a truck, like any other vehicle, is made up of several components. These components come together to form individual systems and those systems go on to form the entire vehicle. Now, it so happens that these systems have their own individual functions and sometimes things can go wrong with them.
That's when you'll need someone to work on that particular unit of your truck. Xcel Automotive provides that kind of assistance.
Some of these systems get affected usually due to extensive use or physical damage (accident or misuse).